Post by Storm on Jan 22, 2022 4:57:29 GMT
The opening pyro fires off and the Salt Lake City crowd is absolutely electric for the start of this show. This is the first time professional wrestling has come to Utah in well over a year and this crowd has waited patiently for this night. The pyro ends and Mick Foley's music hits to applause and cheers from the crowd. He appears at the top of the Storm ramp with a microphone in his hand and a smile on his face. His music fades and the crowd continues to cheer until finally fading a bit before he starts.
MICK FOLEY:
Salt Lake City, how's everyone doing tonight!?
An easy question and an obvious cheap pop as the crowd erupts back at him.
MICK FOLEY:
We have a very special night in store for you all and everyone at home tonight. In our main event, we will find out who will face each other for the world championship in a ladder match at Ascension! That's not the only title scene that will be more clear by night's end. We have Queen of the Mountain qualifying matches tonight that will help shape the women's championship match at Ascension as well. Might I add that women's match will also involve a ladder. I do have a
special
announcement for one more title tonight though. That being the X-Division championship and it's inaugural champion, Braun Strowman. One more thing about tonight's battle royale main event. There is going to be a lot of people inside that ring and while I'd love to accommodate all of them and allow their managers at ringside tonight, I'm afraid I just can't allow that with there being
so many
people. I'd hate to have someone on the outside of the ring change the outcome of the match, so all ringside managers are banned from the battle royale match tonight!
The crowd cheers at the decree just laid down by Foley.
MICK FOLEY:
Tonight, we will find out who will be challenging Braun Strowman for the X-Division championship. Tonight, in the title contender battle royale main event, whoever has the
most eliminations
not in the final two will be the new number one contender and face Braun Strowman at Ascension! So, that'll be three title divisions that will have challengers for our first Pay Per View spectacular. Leaving just the tag team division, which will be the focus on the February 2nd Vengeance. So for tonight, Salt Lake City, enjoy the show and remember…have a nice day!
Foley's music hits as he leaves the ramp area as the scene changes from the ramp to Mauro and Pat behind their commentary desk.
MAURO RANALLO:
A huge announcement to kick off the show from the general manager!
PAT MCAFEE:
No managers at ringside! Most eliminations is the X-Division number one contender! Tag team championship announcement coming up! What an announcement indeed!
MAURO RANALLO:
We have a hell of a night of professional wrestling in store for you folks tonight! Three women's matches to decide the Queen of the Mountain participants at Ascension!
PAT MCAFEE:
I can't wait to see who comes out on top in those! They're all ultra competitive and any one of those six women have a chance to be the first WLCW women's champ!
MAURO RANALLO:
Then in our main event!
PAT MCAFEE:
One of the biggest main events in WLCW history!
MAURO RANALLO:
No need for sarcasm, Pat. This really is a big one!
PAT MCAFEE:
Damn near forty participants in our main event to decide the number one contender for the WLCW World Heavyweight Championship!
MAURO RANALLO:
The field is wide open and it's anyone's game. Who will come out as the last two!?
PAT MCAFEE:
Keith Lee and Warhorse! No…Brock Lesnar and Jeff Parker! I don't know, Mauro! There's so many possibilities!
MAURO RANALLO:
We'll find out in our main event tonight, but let's get down to the ring for our first Queen of the Mountain qualifying match!
PAT MCAFEE:
I can't wait! Let's freaking go!
---
KIMBER LEE VS JAMIE HAYTER
QUEEN OF THE MOUNTAIN QUALIFIER
Drake Maverick is at ringside. Before the match begins, Kimber Lee and Jamie Hayter meet in the center of the ring and engage in a brief handshake, drawing some applause from the fans. The referee calls for the bell and the match is underway. Kimber Lee and Jamie Hayter circle one another for a long moment before they clash in the center of the ring and lock-up! They struggle against one another before Kimber Lee snatches the advantage, catching Hayter's wrist and twisting her around into a hammerlock! Hayter looks for a way out before doubling over at the waist and grabbing Kimber Lee's ankle, tripping her and taking over with a figure four attempt, only for Kimber to plant her boot on Hayter's rear and send him flying forward into the ropes! Hayter catches herself as Kimber rolls back to her feet and charges at her with a clothesline! Hayter drops and pulls the top rope down, causing Kimber to tumble over the top rope and land on the apron! Hayter returns to her feet and instantly gets popped with a forearm from Kimber! Hayter stumbles back into the center of the ring and Kimber rushes to the corner and ascends the turnbuckles, leaping from the top and taking Hayter down with a flying crossbody! She hooks both of Hayter's legs as they crash to the mat! ONE! TWO! TH-- Hayter kicks out and both women roll back to their feet with Kimber holding two fingers half an inch a part, mouthing "that close, sister!" Hayter looks pissed and adjusts her tights before they begin to circle one another again!
MAURO RANALLO:
What a start to this match! And what a start to the rush to qualify for World League Championship Wrestling's FIRST EVER Queen of the Mountain match! As the first of THREE qualifying matches scheduled for tonight, the bar will be SET by Jamie Hayter and Kimber Lee, and I assure you... there hasn't been a more high stakes trilogy since The Matrix!
PAT MCAFEE:
Well, there's four of those now, but I get it! I get that reference, Mauro! And for you fans that might not be hip to the internet, it was announced by Mick Foley that, due to their HUGE tag win on Vengeance, Julia Hart and Momo Watanabe have not only qualified for Queen of the Mountain... but they don't even have to pin anyone to be eligible to claim that sweet sweet WLCW Women's Championship... which will be dangling from the freakin' ceiling!
They go for another lock-up and Kimber ducks it, executing a go-behind. She attempts to deadlift Hayter into a German suplex but Hayter locks her legs and throws an elbow, hitting Kimber in the face! Kimber staggers out and Hayter comes alive, hitting the ropes and nailing Kimber with a shoulder block! The fans are on fire as Jamie Hayter takes over, lifting Kimber off the mat and planting her with a big body slam before hitting the ropes and dropping a knee across her chest! The match belongs to Hayter for a long moment as she throws Kimber onto the middle rope and uses her knee to choke Kimber across the rope! Drake Maverick begs her to stop as the referee counts down, with Hayter only relinquishing the choke at the last moment!
MAURO RANALLO:
JUST LIKE NOTORIOUS WRESTLING CHOKER, LEX LUGER, KIMBER LEE IS... ALSO CHOKING!
PAT MCAFEE:
We're seeing a different side of Jamie Hayter tonight! A cruel and aggressive side! You know that loss took a toll on her! That match could have gone either way, but it didn't go hers and now she's pissed! I like it! I like it a lot!
Smiling, Hayter pulls Kimber to her feet with a handful of hair and hoists her in the air for a vertical suplex! Showing off her strength, she walks a semi-circle around the ring... until Kimber maneuvers her way out of the hold and lands behind Hayter, shoving her forward into the ropes! Hayter hits the ropes and rebounds, only to be caught by Kimber Lee with a NORTHERN LIGHTS SUPLEX! Kimber bridges it! ONE! TWO! HAYTER KICKS OUT! Both women roll straight back to their feet and run to the ropes! They collide in the center of the ring with a big double shoulder block! Neither woman goes down so they run to the ropes again... for another big double shoulder block! Neither woman goes down! They go forehead to forehead and Hayter points at the ropes! Kimber nods and hits the ropes, returning and nailing Hayter with a STIFF clothesline! Hayter grunts and powers up, refusing to sell! Kimber Lee points at the ropes and Hayter charges into them, returning with a STIFF clothesline of her own! Kimber almost goes down but rights herself and chews her bottom lip, refusing also to sell! They go forehead to forehead again and begin talking trash to each other!
PAT MCAFEE:
BIG! FIGHT! ATMOSPHERE!
MAURO RANALLO:
STEP ASIDE LI XIANGFEI AND MAI SHIRANUI! THESE TWO WOMEN ARE COMPETING TO SEE WHO IS TRULY THE QUEEN OF FIGHTERS!
BAM! A big right hand from Hayter! Kimber returns with a forearm of her own! They begin trading stiff blows back and forth! The fans are going nuts! Hayter suddenly kills the momentum and steals the advantage with a knee lift! She turns to run the ropes but Kimber grabs two handfuls of Hayter's hair and yanks her straight down to the mat! Kimber hits the ropes and goes for a big leg drop but Hayter rolls out of the way and back to her feet! She hits the ropes... BASEMENT LARIAT TO THE SEATED KIMBER LEE! Hayter pulls Kimber Lee back to her feet and hoists her up onto her shoulder! She goes for a RUNNING POWER SLAM but Kimber Lee slips out behind her and shoves her forward into the turnbuckles! Hayter staggers out backward into the arms of The Crown Jewel of the Lee Family... BRIDGING GERMAN SUPLEX! ONE! TWO! THR-- NO! HAYTER BARELY KICKS OUT!
PAT MCAFEE:
She kicked out! She knows this match is everything or nothing and she will NOT be denied her shot at the WLCW Women's Championship!
MAURO RANALLO:
To borrow a line from Hikari Noa, Jamie Hayter is HARD TO KILL-- just like STEVEN SEAGAL in 1990!
Kimber Lee looks frustrated, getting back to her feet and going right back to work, looming over the fallen Hayter and waiting on her to get up! Hayter slowly gets to her feet and Kimber sizes her up! Drake Maverick is shouting warnings at her to look out! Hayter slowly turns around and Kimber Lee throws a HUGE roundhouse kick only for Hayter to drops to both knees and grab the front of Kimber's gear, pulling her forward awkwardly and causing her to stumble forward into the referee, knocking him through the ropes to the floor as the fans gasp!
PAT MCAFEE:
ARE YOU KIDDING ME RIGHT NOW! GET UP, REF!
MAURO RANALLO:
WITH THE REFEREE OUT OF COMMISSION, THIS MATCH IS AT RISK OF TAKING A DETOUR INTO WILD WILD WEST TERRITORY! WICKI-WICKI WILD WILD WEST!
PAT MCAFEE:
Rough neck so go check the law and abide!
MAURO RANALLO:
Wait, what?
PAT MCAFEE:
That's the lyrics to Wild Wild West-- you just referenced Wild Wild West, didn't you!?
The fans begin booing loudly. Kimber looks shocked by what she's accidentally done and slowly turns around to see Hayter motioning for her to "bring it on," only to realize that the fans are booing because MOMO WATANABE is in the ring, lurking behind Jamie Hayter with a steel chair!
MAURO RANALLO:
What's she doing here?!
PAT MCAFEE:
You saw what happened on Vengeance, Mauro! Momo Watanabe and Jamie Hayter went to WAR and WAR is PERSONAL! It's time to send a message on THE QUEEN'S ROAD TO ASCENSION AND THIS IS IT! OH MAN, THIS IS IT!
Hayter senses a rumble in the ring behind her and slowly turns around, seeing Momo Watanabe with the chair loaded up, ready to go! Momo swings the chair but Hayter dives out of the way and the chair nails Kimber Lee right in the head! Kimber goes down and Momo looks confused for a moment, realizing she didn't get the opponent she intended! Momo turns around into a MAFIA KICK, sending the chair into her own face! The fans cheer loudly!
PAT MCAFEE:
MOMO IS DOWN! MOMO IS FREAKIN' DOWN!
MAURO RANALLO:
QUICK THINKING BY JAMIE HAYTER!
Momo falls through the ropes to the floor and tosses the chair, storming to the back in a huff! Hayter looks down at Kimber Lee, lying completely still! She grabs her ankle and drags her into the centere of the ring. Hayter covers and hooks the leg as Drake Maverick helps the referee into the ring! He slowly begins to count... ONE! TWO! THR-- KIMBER LEE GETS A SHOULDER UP! Jamie Hayter freaks out and gets back to her feet, dragging Kimber up behind her! She hooks her... URANAGE BACKBREAKER! Hayter maintains her grip on Kimber and pulls her back to her feet... A SHORT ARM LARIAT TURNS HER INSIDE OUT! Hayter covers and cradles Kimber Lee tightly! ONE! TWO! THREE!
WINNER:
JAMIE HAYTER
Pinfall - 13:08
Hayter releases the pin and sits next to Kimber for a moment as Drake Maverick climbs into the ring and kneels to grab Hayter's wrist. He raises her fist in the air, only for her to rip her hand away and then roll right out of the ring. Drake follows her out, begging for favor but she pays him no mind until she disappears through the curtain.
MAURO RANALLO:
What a battle! Say what you will about how it ended, but Jamie Hayter put in the work and earned that victory!
PAT MCAFEE:
Next stop for Jamie Hayter, ASCENSION AND THE QUEEN OF THE MOUNTAIN MATCH!
Inside the ring, the referee helps Kimber Lee up to her feet. The fans applaud her effort as she's helped to the floor. As she gets about halfway up the ramp, she's greeted by Jason Lee and Dragon Lee who help her the rest of the way to the back.
PAT MCAFEE:
You hate to see anyone lose in a situation like this.
MAURO RANALLO:
It's hard to say she was robbed because that match could have gone either way, but Kimber Lee still had fuel in the tank when the Black Peach got involved... either way, that's an issue for another day as now JAMIE HAYTER will have her day with Momo Watanabe and Julia Hart at WLCW ASCENSION!
PAT MCAFEE:
Who else is gonna qualify? You gotta wait and find out!
Fade.
Returning from a commercial break, we see the backstage area once again, this time close to the women's dressing room. Standing next to the door, prim and proper, is a silver haired woman in a butler's uniform. Konami holds her hands behind her back as she seems to be waiting for someone to step out. Her face is calm and unmoving as a few people walk by, staring at her in confusion. It's clear that she has plenty of patience and may have been waiting for a while to catch her prey. Finally, Hikari Noa steps out of the dressing room, t-shirt over her ring gear. The arrival of the Deathmatch Princess prompts Konami to step forward with a sly smile upon her lips. Hikari stops dead in her tracks as she recognizes the Rose Queen's butler.
For a long, tense moment the two women just stare at each other. Much as she did last week, Hikari does her best to stand up ramrod straight and puffs out her chest. Konami just leans in closer to the point that their noses are almost touching. Despite her odd behavior and attire, there's a fire in Konami's eyes which burns just as intensely as the one in Hikari's. Neither woman intends to be the first to look away, and it seems they might have an altercation. Hikari balls her hands up into fists in anticipation of a fight. The butler, though, stands up straight and produces a fine cream colored envelope from behind her back. It's sealed with red wax, and Konami offers it to Hikari with both hands. This gesture takes Hikari by surprise to the point that all she can do is stare at the fancy envelope.
KONAMI: From the Queen.
Before Konami can provide any further details, though, a third woman causes quite a commotion. Wearing a green jacket over a red top and jeans, the woman's distinct black hair with red highlights is a dead giveaway to her identity. We see ACT Yasukawa's face, scowling in disdain at Konami as if the butler has just committed some major offense. She forces her way in between the two other women and folds her arms over her chest.
ACT YASUKAWA: Oi oi! What's all this about? You messing with this kid here?
Thoughts of violence seem to cross Konami's mind for a moment as the two women glare at each other. After a long moment of consideration, she thinks better of it and steps away with a bow. ACT steps in the butler's direction, looking as though she might start a brawl anyhow. Instead she stops short and jabs two fingers in the butler's direction. Hikari just looks on, dumbfounded.
ACT YASUKAWA:
You come around to do that again and I'll go right to your boss' place and do some interior decorating.
Konami snickers dismissively as she walks down the hall and out of sight. ACT rolls her eyes, then looks at Hikari with a smile. Hikari returns the favor with her own smile, then reaches inside the locker room and produces her trusty bat "Mako". After buying it a few days ago, she's now added embellishments which includes the complete bedazzling of its tip with what look like blue rhinestones. The older woman stares at the bat, then back at Hikari and raises a dubious eyebrow. After another moment of staring at each other, ACT pats Hikari on the shoulder and heads into the locker room. Hikari looks very confused by the turn of events, but goes on her way, clutching "Mako" to her chest.
Camera opens to John Cena and AJ lee in the back locker room to discuss his return back to WLCW.

AJ LEE:
Babe OMG that was so Wonder full.
JOHN ~WORD LIFE~ CENA: Hell yeah baby it was.
AJ LEE: I love you baby.
JOHN ~WORD LIFE~ CENA:
I love you too baby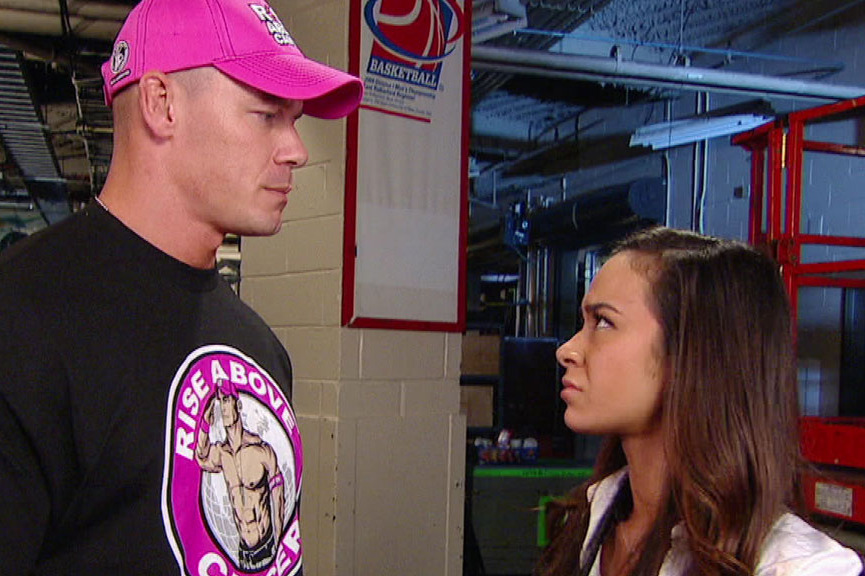 AJ LEE:
Babe you ready for your return of WLCW?
JOHN ~WORD LIFE~ CENA:
Never been this ready before.. I'm going to show Jimmy and Jey Uso. who they messing with..
AJ LEE:
Awesome baby.
JOHN ~WORD LIFE~ CENA:
Yea.
Just then they hear a knock on the door.
AJ walks over and opens it....as Josh Matthews stands in there doorway.
JOSH MATHEWS:
Hello Miss Lee.. is your boyfriend John Cena ready for his interview?
AJ LEE:
Hello Josh I'll go see if he is.
JOSH MATHEWS:
OK.
AJ LEE:
John....... Josh Matthews is here asking if your ready for your interview.
JOHN ~WORD LIFE~ CENA:
Yes I am Ready.
AJ LEE:
OK I'll go tell him.
AJ walks back to Josh as she says.
AJ LEE:
ok Josh hes ready.. just have a seat and John will be here shortly.
JOSH MATHEWS:
Ok Thank you Miss Lee.
AJ LEE:
Anytime.
She walks and sits and goes on her laptop to check her email.
John walks out and sits next to Josh as Josh begins to ask him questions.
JOSH MATHEWS:
So John..... You ready for your Big return this Saturday?
JOHN ~WORD LIFE~ CENA:
Hell Yeah man....... I've been waiting all week for this return....
JOSH MATHEWS:
That's awesome... so who do you want to take out first?
JOHN ~WORD LIFE~ CENA:
Well those two sons of bi*ches who attacked me while I lost to The Tribal Chief Roman Reigns. that's who I'm going after.
JOSH MATHEWS:
I know you and The Bloodline have a history with each other.... so do you think this
hatred between you too will end this Saturday?

JOHN ~WORD LIFE~ CENA:
Yeah maybe who the f*ck knows....... listen Josh I got to go to the ring
right now....... I'll catch ya later.
JOSH MATHEWS:
Ok John good luck.
JOHN ~WORD LIFE~ CENA:
Thanks.
AJ shuts down her computer as Josh Matthews leaves.
AJ walks back to John as she looks in his eyes.
John Cena smiles.
AJ sits on his lap as she kisses him.
John kisses her back.
AJ LEE:
When Roman wins baby... you're going to get lucky.
JOHN ~WORD LIFE~ CENA:
I can't wait baby.
Aj gets off his lap... as John Cena grabs her ass.
Aj looks at him.
JOHN ~WORD LIFE~ CENA:
What baby my hand slipped..
AJ LEE:
Sure it did.
John and AJ Leave there locker room as they walk down the hall
John music blasts through out the arena as John cena and AJ make there way on the
ramp.
John Cena and Aj lee enter the ring as he gets a Mic before he begins to speak he hears the
fans chant his name.
John begins to speak.
JOHN ~WORD LIFE~ CENA:
The Bloodline This Saturday your going to experience humiliation...... when Roman takes you all out for good... now i don't have much to say... but Bloodline the Wlcw wrestling... See look Roman has the most ruthless Superstars.. if you don't believe me just wait till Saturday... cause Bloodline is stepping into Fire...... and Roman will get Burned... Yo Dat's all I got to say.
John throws down the mic.
As He and Aj leave the ring together and that walk up the ramp.
PAT MCAFEE:
Well, that was certainly a thing that was said back there.
MAURO RANALLO:
Fans, we apologize for some of the language from John Cena. We're hearing there seems to be some more action going on backstage, let's take you to it!
We can still hear the fans reacting inside the arena as we cut backstage and see Momo Watanabe walking, having reached the dressing room area only moments earlier. Appearing less than impressed with how things went at ringside, she licks her bloody lip, the lone receipt from her attempt to cost Jamie Hayter her qualifying match. Upon seeing her on the tron, the fans begin booing loudly. Before she can walk too much further along, we hear a familiar voice call out to her.
JULIA HART:
MOMO!
Momo stops in her tracks and looks over her shoulder, eyes narrowing into a menacing scowl.
JULIA HART:
MOMO, WAIT!
Julia Hart skips onto the scene and immediately recognizes the death glare she's receiving.
JULIA HART:
Hold up, girl. Give me, like... TWO SECONDS OF YOUR TIME! OKAY?!
Momo just continues to glare at her. Julia talks a mile a minute.
JULIA HART:
Okay, so, I have an idea. We did, like... totally awesome in that tag team match, right? I mean, I won-- WE won! Obviously because, like all cheerleaders, I'm a genetically superior athlete and you were totally there, too, am I right? I mean, you were! You did your part! And I--
She looks away, batting her eyes.
JULIA HART:
--ahem, totally couldn't have done it without you.
Momo tilts her head to the side, a confused look upon her face.
JULIA HART:
But now we're in this five woman Queen of the Mountain match for the title and, well... you and I have this advantage that says we can just go for the belt without actually having to pin anyone and... it just kinda' makes sense that we should work together since we're best friends and all, practically sisters if you ask me. So let's take out the other girls, and just settle this ourselves, am I right?
Julia smiles ear to ear.
JULIA HART:
Well? What do you think?
Momo gets right in Julia's face, almost standing nose to nose with her. Julia turns her head slightly and side eyes Momo, not knowing what's coming next. Momo sneers, clearly not amused by Julia's offer.
MOMO WATANABE:
No... speak... Eng-uh-rish.
Before Julia can respond, we hear another voice from off-camera.
JAMIE HAYTER:
OI! TWAT!
Jamie Hayter comes out of nowhere with a big forearm to the side of Momo's head, almost knocking her down before she catches herself! The live crowd goes wild as Momo rights herself and prepares to fire back, but not before Hayter turns and boots Julia Hart in the chest, sending her crashing into a nearby vending machine!
MAURO RANALLO:
Just when we thought it was over, the fight has spilled backstage! Jamie Hayter isn't finished with Momo Watanabe after what happened in the ring tonight!
PAT MCAFEE:
That's the thing about sending messages, Mauro! Once received, you're likely to get one right back and that's what is happening RIGHT HERE, RIGHT NOW!
The front of the machine shatters and Julia Hart scrambles away, shrieking as cans of cola dispense automatically and roll onto the floor! Momo charges at Hayter and they begin clubbing away at each other with big forearm blows until Hayter sends Momo reeling backward with a big EUROPEAN UPPERCUT! Momo staggers back several feet and then goes to charge at Hayter again, but Hayter snatches a can off the floor and lobs it at Momo, nailing her right beneath the eye! The fans "OHHH!" and then cheer again as Hayter charges and ties up with Momo, both women holding onto the others' hair and punching away as security floods the area with road agents, pulling the two women apart!
MAURO RANALLO:
Can you imagine what these two women are going to do to one another once ladders are involved?! Will the other women in the match end up like Julia Hart, cast aside like collateral damage!? Or, could their focus on one another work to the advantage of the other qualifiers!? Someone call Tom Cruise because separating these two appears to be MISSION: IMPOSSIBLE!
PAT MCAFEE:
AND IT KEEPS GETTING EVEN MORE REAL! LOOK WHO JUST ARRIVED ON THE SCENE, MAURO! THE SHERIFF IS HERE, SPURS JINGLIN' AND JANGLIN'!
The fans pop huge as Mick Foley walks into the shot, looking more than a little annoyed by what he's witnessing. Momo and Hayter struggle against the security guards holding them back and away from one another. Spittle flies from Foley's mouth as he points at them.
MICK FOLEY:
Is this what it's come to? After one show?! Geez Louise, ladies, this just isn't gonna cut it! Look, I want the Queen of the Mountain Match to be legitimate! I want everyone in the match to DESERVE to be in the match! Because they earned it! Not because of run-ins and underhanded shenanigans! But obviously there's a lot of tension between you two that can't wait until Ascension... you two have got a fever and that fever has spread to all of these fans, right here... in SALT LAKE CITY, UTAH!
The fans pop huge. He smiles, nodding.
MICK FOLEY:
And there's only one cure for this particular kind of fever... and that cure is BIG MEATY WOMEN SLAPPING MEAT! In a strictly professional and competitive way! So, in ten days at Vengeance... ten days before the Queen of the Mountain Match at ASCENSION... you two are goin' ONE ON ONE!
The fans cheer loudly. Hayter smirks, eyeing Momo harshly.
MICK FOLEY:
...but until then, I can't risk either of you getting involved in the other two qualifiers tonight, so... YOU'RE BOTH OUTTA' HERE!
The fans cheer again as security carts both of them off, presumably to be escorted off the property for the rest of the night! Mick Foley places his hands on his hips and nods proudly.
MICK FOLEY:
That oughta' teach'em a lesson!
He scratches his beard.
MICK FOLEY:
Probably not. They're gonna kill each other in ten days, aren't they?
He shrugs.
MICK FOLEY:
Oh well. This is Storm and that's Vengeance Foley's problem, am I right, guys? Am I right?
He offers a high five to anyone willing to take him up on it but no one does. Without another word, Foley walks off-camera and we fade to black.
MAURO RANALLO:
The women's division is absolutely heating up right now, Pat!
PAT MCAFEE:
Why do people continue to mess with Jamie Hayter!? She is the epitome of badass! Momo and Julia Hart may have bit off more than they can chew!
MAURO RANALLO:
And they'll find themselves in a Queen of the Mountain match with her at Ascension!
PAT MCAFEE:
Let's not wait any longer. Let's put another person in that match!
---
SU YUNG VS ROK-C
QUEEN OF THE MOUNTAIN QUALIFIER
Booker T is conspicuous by his absence at ringside. Rok-C stares across the ring at Su Yung, doing her best to put on a brave face in preparation for the start of the match. The referee calls for the bell and both women circle one another, with Su Yung's movement more closely resembling stalking prey.
PAT MCAFEE:
Look in the eyes of Rok-C, Mauro!
MAURO RANALLO:
That's the face of a woman who is confident in her abilities, but is perhaps weary of the SINISTER intent of the INSIDIOUS Su Yung! But let's hope Rok-C's mother was brave in the face of PARANORMAL ACTIVITY because I hear that trait is HEREDITARY!
Rok-C goes in for a lock-up but Su Yung immediately cuts her off with a knee lift and grabs two handfuls of hair, whipping Rok-C down hard to the mat! Rok-C quickly powders to the floor and Su Yung follows her out. Rok-C quickly springs to action, pushing Su Yung back against the apron and nailing her with a series of forearms! The fans go wild as Rok-C goes to work on the Undead Bride! Pulling Su Yung away from the apron, she whips her into the guardrail-- NO! SU YUNG REVERSS THE WHIP! ROK-C GOES BACK FIRST INTO THE STEEL! Su Yung follows her in with a high knee to the mid-section and then pulls Rok-C away from the rail. She hooks for a suplex and suplexes her in such a way that her lower legs LAND ON THE RING STEPS!
PAT MCAFEE:
OH MAN, DID YOU HEAR THAT IMPACT?!
MAURO RANALLO:
Someone call Lieutenant Dan because Rok-C may be in need of MAGIC LEGS for the remainder of this match!
Su Yung quickly pulls Rok-C up by her hair and throws under the bottom rope. Su Yung follows her in, crawling behind her as she rolls into the center of the ring. Su makes a quick pin! One! Two! Rok-C kicks out, refusing to stay down! Su Yung rises to her feet and grabs Rok-C by the hair, pulling her up behind her. Rok-C is obviously hurting but begins punching Su Yung in the stomach before standing up and swatting her hands away. She nails Su Yung with a forearm and then backs her into the ropes before shooting her off-- NO! Su Yung reveres the Irish whip! Rok-C rebounds and Su Yung goes for a clothesline but Rok-C perfectly executes a CARTWHEEL EVASION... only for Su Yung to immediately dropkick her in the knees as soon as she lands on her feet!
PAT MCAFEE:
Su Yung continues to stay one step ahead of The Prodigy!
MAURO RANALLO:
You have to expect that Su Yung has prepared for this match! With everything on the line, and following her huge on Vengeance, the Undead Bride is intent on turning the LIGHTS OUT on Rok-C!
Su Yung goes to work, stomping on Rok-C's injured legs! Su Yung then mounts her and begins raining down punches and forearms! Rok-C covers up until the referee makes Su Yung let up on the onslaught. Su Yung backs up and the referee backs her into a corner, allowing Rok-C to regain her bearings. She grips the top rope to keep her footing and then allows adrenaline to take over as she charges across the ring, leaps over the refere, and begins punching and forearming away at Su Yung like a woman possessed! Su Yung goes throws a haymaker but Rok-C ducks it, ending up on the other side of the Undead Bride! Rok-C cradles her up out of nowhere! ONE! TWO! THR-- NO! SU YUNG KICKED OUT AT THE ABSOLUTE LAST SECOND!
PAT MCAFEE:
THAT FAST! IT CAN ALL END... THAT FAST!
MAURO RANALLO:
ROK-C IS STILL IN THE GAME AND THAT QUICK PIN IS A SOBERING REMINDER FOR THE DEMON FROM THE SHADOW REALM!
Su Yung and Rok-C roll back to their feet at the same time and Su Yung immediately boots Rok-C in the stomach and hoists her up... PANIC SWITCH-- NO! ROK-C SLIPS OUT! She pulls Su Yung down into a SCHOOLGIRL ROLL-UP! ONE! TWO! THRE-- NO! SHE KICKED OUT! Rok-C gets up and sees Su Yung on all fours... OKLAHOMA ROLL! ONE! TWO! THREE-- NO! SU YUNG KICKS OUT! Su Yung immediately gets back to her feet and advances on Rok-C who is still on the mat... SMALL PACKAGE! ONE! TWO! THEY ROLL INTO ANOTHER POSITION! ONE! TWO! AND AGAIN! ONE! TWO! IT'S A TEXAS TUMBLEWEED! THEY ROLL AROUND THE RING AS THE REFEREE DESPERATELY COUNTS "ONE! TWO!" OVER AND OVER UNTIL THE TUMBLEWEED COLLAPSES AND BOTH WOMEN LIE ON THE MAT, EXHAUSTED!
MAURO RANALLO:
Pinfall attempts coming TOO FAST TOO FURIOUS for the official to keep up, but Su Yung is DRIVEN to continue and thus these two ladies are destined to continue TRADING PAINT here tonight... but which one of them will survive this DEATH RACE to the finish and which one has DAYS OF THUNDER ahead!?
PAT MCAFEE:
That... that was a lot.
MAURO RANALLO:
It was an incredible pinfall sequence.
PAT MCAFEE:
Oh. Yeah. The match. THAT was a lot.
Both women get back up to their knees and face off in the middle of the ring! On their knees, they begin trading forearm blows until Rok-C shrieks and headbutts Su Yung right in the forehead! Su Yung goes down and Rok-C covers her! ONE! TWO! THR-- SU YUNG KICKS OUT! Frustrated, Rok-C ascends the turnbuckles and waits on Su Yung to get up... Su Yung rises and Rok-C flies! FLYING CROSSBODY FROM THE TOP! SHE NAILS IT BUT SU YUNG ROLLS THROUGH, HOOKS ROK-C'S ARMS BEHIND HER BACK AND TRIES TO APPLY THE PURGE, BUT ROK-C SHIFTS HER WEIGHT AND PINS SU YUNG TO THE MAT! ONE! TWO! THREE! WHAT JUST HAPPENED!?
WINNER:
ROK-C
Pinfall - 9:39
Su Yung releases her hold on Rok-C and sits up with a look of surprise on her face! Rok-C immediately rolls out of the ring, unable to comprehend how she just pulled the win out of nowhere! The fans cheer loudly as Rok-C backs up the ramp, covering her mouth with one hand as the referee accompanies her, raising her other hand in victory!
PAT MCAFEE:
What a huge win for Rok-C! I really thought The Undead Bride had it in the bag with The Purge but the heart of Rok-C had other plans and you love to see it! She's going to Ascension, folks!
MAURO RANALLO:
The Queen of the Mountain match is shaping up with only one spot left to go! With Hikari Noa and Tiffany Stratton meeting head to head later tonight, who will walk the queen's road to become the final woman in the WLCW Women's World Championship match!?
We fade out on a shot of Su Yung throwing a fit in the ring.
​​
We cut to the backstage area where 2.0 are standing next to the Honky Tonk Man talking about tonight's main event. ​​
MATT LEE:
I'm just saying, you scratch our back and we will damn near break our fingernails scratching yours, bud. Whatta ya say?
JEFF PARKER:
It's a hell of a deal.
THE HONKY TONK MAN:
Well, I tell you what. You guys drive a hard bargain. Only problem the Honky Tonk Man sees is that he's not even in the darn battle royale tonight! Give me three first class tickets to Salt Lake City, send me a limousine at the airport to pick me up and bring me to this ice box and then Honky Tonk Man finds out he's not even in the biggest match of the night? Now does that make any sense to you?
JEFF PARKER:
Wait, you're not even in the match?
MATT LEE:
I thought
everyone
was in the match?
THE HONKY TONK MAN:
I tell you what, not
everyone
is in that match tonight. The only person worth a thing around here isn't in that match. The greatest entertainer of all time. He's cool. He's cocky. He's bad. You know who it is, boys.
MATT LEE:
Honky Tonk Man, yeah…man though…
JEFF PARKER:
We were kind of hoping you'd have our back out there tonight. Then we could - -
MATT LEE:
You could win. You
would
win that match and we'd all ride out of here in your pink cadillac
JEFF PARKER:
Maybe you could talk to Foley and get in the match or something?
THE HONKY TONK MAN:
Yeah, where is that good for nothing general manager? Last time I saw him, he said he'd text me information about my next match. Now what in the blue suede shoes does that even mean? Text me? The Honky Tonk Man don't have no cell phone, boys.
BRIAN PILLMAN, JR:
Well, well, well.
​​
​The scene fades back a bit to see the Varsity Blondes come into frame.
GRIFF GARRISON:
If it isn't 2.0 coming off their big win on Vengeance, hanging out with…um…
BRIAN PILLMAN, JR:
Hey man, what is your name and what's with the get up?
​​
Matt Lee annoyingly interjects the question.​​
MATT LEE:
Who is this?
WHO IS THIS?
He's the greatest Intercontinental Champion of all time!
JEFF PARKER:
He's cool!
MATT LEE:
He's cocky!
THE HONKY TONK MAN:
I'm bad! I'm the Honky Tonk Man!
BRIAN PILLMAN, JR:
Right, uh…
JEFF PARKER:
Why don't you guys get lost? Don't you have a homecoming dance to ask someone to?
MATT LEE:
Yeah, this ain't your school lunch boys. Ya don't want a taste!
GRIFF GARRISON:
Hey, we were just coming to talk about maybe a truce tonight and working together, but since you pricks are, well - -
BRIAN PILLMAN, JR:
Pricks!
GRIFF GARRISON:
You can forget about any idea and thoughts of working together. In fact, I'd stay out of our way in that ring tonight, cause if you get in it - -
BRIAN PILLMAN, JR:
You're going over the top!
​​
The Blondes walk off, leaving the three of them standing there again. ​​
JEFF PARKER:
Damn…we could have worked with them and dumped them at the end and won. Just like we were gonna do to - -
MATT LEE:
Ah! That's enough!
THE HONKY TONK MAN:
Boys, Honky has to find the little men's room for a bit. I'll see ya out there tonight. Good luck. I'll keep the caddy running!
​​
Honky walks off as the scene fades. ​​Backstage, we're suddenly greeted with the sight of Booker T putting the finishing touches on his gear. As he prepares for the main event battle royal coming up, he slings his hair back out of his face and then stares down into the open palm of his gloved hand. His eyes bug out ever so slightly and his hand begins to tremble before he clenches his fist and raises it to his forehead, shutting his eyes and silencing the voices within. The fans are buzzing with electricity, ready to experience whatever The Booker Man has in store for them.
DRAKE MAVERICK:
Um, pardon me--
Booker T only jumps about a foot in the air. He whips around, assuming an awkward karate stance, looking down at the tiny frame of Drake Maverick, who is also already dressed for the battle royal later tonight. Drake cowers and raises both arms to protect his head.
DRAKE MAVERICK:
NO, MUMMY, DON'T HIT ME AGAIN!
Booker T raises an eyebrow and lowers his guard. Maverick peeks over his own hands and looks around nervously before speaking in a much quieter tone.
DRAKE MAVERICK:
Ahem... there's a perfectly logical and not creepy at all explanation for that... um... cry for help-- no, no, that term won't do... how about outburst. Yes, I can explain that outburst--
BOOKER T:
I didn't hear nothin', dawg.
DRAKE MAVERICK:
Splendid.
BOOKER T:
It ain' none o' the Booka' Man's bidness, what kinda' freaky mommy issues yo' ass got goin' on, you dig?
DRAKE MAVERICK:
There's no freaky-- oh, screw it. Fine. I dig.
BOOKER T:
What IS the Booka' Man's bidness is why is YOU in 'ere, interruptin' my MOMENT OF ZEN, huh!? You know that da' BOOKA' MAN requires silence for self-reflection and to thank about ever'thang 'at ever happened in his whole life leadin' up t' this one match, this one MOMENT, dawg! So why is you here, huh!?
Booker T takes a step forward, looking down at the British man's gear before leaning down in his face. Their noses almost touch. Maverick turns his head slightly to the side.
BOOKER T:
Especially when you the enemy tonight. Yo' ass spyin' on me or somethin'!?
DRAKE MAVERICK:
Have you forgotten that we've been talking business recently? As a matter of fact, we've been talking the most important business... the shampoo business and how it might lead to a breakthrough in stardom for one of our ladies--
Before he can continue, Rok-C walks into the room, fresh off her victory and beaming with pride. She completely disregards Drake Maverick, walking right past him.
ROK-C:
Book, did you see that? I did it!
She clenches both fists in front of her, unable to contain her excitement.
ROK-C:
I qualified for the Queen of the Mountain match! Please tell me you saw that!
Booker T looks down at her and gives her a quick nod.
BOOKER T:
Nah, I didn't see nothin', but good goin', dawg. Knew ya' had it in ya'.
Booker T turns and looks at Drake.
BOOKER T:
Let's step ova' here 'n talk about this shampoo commercial, but make it quick. Every minute the Booka' Man ain't mentally preparin' for the MATCH O' HIS LIFE, is a minute spent givin' HOOK or fat ass Keith Lee an advantage... and if one o' them fools wins this match and the BOOKA' MAN don't!? Well, that just puts egg on my face.
Booker T begins trembling with great intensity and furious anger.
BOOKER T:
And ever'body knows how much I hate eggs!
Drake looks confused.
DRAKE MAVERICK:
Do they?
BOOKER T:
Don't question me, peasant!
Booker T shoulders past him, almost knocking him down in the process. Drake follows him out of the frame as they go to discuss the finer details of their shampoo commercial. Rok-C is left standing alone, appearing hurt by how he just brushed her off.
ROK-C:
...it's like he doesn't even care!
A voice from off-camera jolts her back to reality.
SASHA BANKS:
Why should he? He's successful. He's a former world champion. As a successful former world champion, I can relate to someone like Booker T.
Rok-C turns around and sees Sasha Banks standing behind her.
SASHA BANKS:
What have you done since you got here but whine about being ignored? Do you know what I do when I'm not getting the attention I deserve? I show out. I give people a reason to care. That's what it's like to be a BOSS.
ROK-C:
Whatever, Sasha. If you're such a boss, why aren't you in the Queen of the Mountain match? As a matter of fact, why didn't Mick Foley even put you in a qualifier?
Sasha smirks.
SASHA BANKS:
That's actually why I'm here, you sawed off, ratchet loser. I didn't get a qualifier. I'm not in the title match at Ascension and that's a crime! As a matter of fact, it's a lot of things that I'm not allowed to say on the WWN so I'm just gonna put it like this, rookie. I'm not getting the attention I deserve--
She gets right in Rok-C's face.
SASHA BANKS:
So I'm showing out.
Dramatic pause.
SASHA BANKS:
Out of everyone that's qualified so far, you're the weak link. You're the nobody. You're the one that doesn't belong... so I'm laying down the challenge because I know you're too stupid and too prideful... too eager to prove yourself to turn it down. In ten days, you're gonna put your spot in the women's title match on the line against me, THE LEGIT BOSS, and I'm gonna beat you and I'm gonna take it from you... and then I'm go on ten days later to become the first-ever WLCW Women's World Champion. What do ya' say about that, Prodigy?
Breathing heavily, trying to control her emotions, Rok-C looks down at the floor and then cuts her eyes back up in Sasha's direction. She speaks through gritted teeth.
ROK-C:
You're on.
Sasha smirks.
SASHA BANKS:
I thought so.
Without another word, Sasha walks away, leaving Rok-C by herself. The fans are grumbling audibly, not sure how they feel about Rok-C putting her earned title shot on the line as we fade to black.
MAURO RANALLO:
2.0 might be looking for friends in all the wrong places tonight!
PAT MCAFEE:
Honky would be a great friend! Don't be jealous! Booker looks ready for a fight tonight though!
MAURO RANALLO:
We've got one more qualifier set to join Rok-C and Jamie Hayter for Queen of the Mountain tonight! Let's get to it!
PAT MCAFEE:
Oh this one is gonna be fun!
---
TIFFANY STRATTON VS HIKARI NOA
QUEEN OF THE MOUNTAIN QUALIFIER
Kagetsu and Jinny are at ringside for the match, watching from their respective partners' corners. Before the match begins, Tiffany Stratton paces back and forth, strutting, with a look of disgust on her face… appalled by the looks of the significantly smaller Hikari Noa. The referee gestures for them to meet in the center of the ring for a proposed handshake but Stratton denies the request, prompting the referee to call for the bell to begin the match.
MAURO RANALLO:
What a show of disrespect right from the start by Tiffany Stratton, who is making her WLCW debut here tonight on STORM!
PAT MCAFEE:
When you look as good as Tiffany Stratton, you can disrespect whoever you want, my dude. Regardless, whether she's down with handshakes and hugs or whatever, this is the final match in the Queen of the Mountain qualifier series! One of these lucky ladies will fill the final spot at WLCW ASCENSION for an opportunity at becoming the first-ever WLCW Women's World Champion! WHO'S IT GONNA BE, MAURO!?
MAURO RANALLO:
Both ladies are so talented! It's hard to choo-
PAT MCAFEE:
WHO'S IT GONNA BE, MAN!?
Hikari and Tiffany meet in the center of the ring and quickly lock up. Hikari struggles against her but Tiffany simply smirks and THROWS Hikari halfway across the ring! Hikari rolls back to her feet and charges at Stratton blindly, walking right into a clothesline that takes her head clean off! Stratton shakes her head and uses her boot to kick Hikari over on her back and places her foot on her chest! ONE! Hikari kicks out!
MAURO RANALLO:
ONE DOES NOT SIMPLY WALK INTO MORDOR AND ONE CERTAINLY DOES NOT PIN HIKARI NOA WITH ONE FOOT ON THE CHEST! Tiffany Stratton may LITERALLY BE THE POLAROID OF PERFECTION but she has not done her homework on Hikari Noa!
PAT MCAFEE:
She's hard to kill, Mauro!
Before Hikari can get back on her feet, Stratton grabs her around waist and lifts her off the mat, planting her all on her shoulders and head with a GUTWRENCH SUPLEX! Stratton goes for another quick cover but only gets two as Hikari gets a shoulder up. Stratton blows a strand of hair out of her face and sits up, grabbing a handful of Hikari's hair and pulling her up to all fours. Hikari rattles off some forearms to Tiffany's midsection, causing her to release her grip. Hikari quickly gets back to her feet and hits the ropes, flinging herself at Stratton with a FLYING CROSSBODY but Stratton catches her and slings her outward, planting her with an URANAGE! Stratton covers and hooks both legs! ONE! TWO! HIKARI KICKS OUT!
MAURO RANALLO:
Hikari Noa takes a lickin' but keeps on tickin', McAfee!
PAT MCAFEE:
She can take a beating, sure. But where does it end, Mauro? How much can one woman take?! Tiffany Stratton is bigger! Tiffany Stratton is stronger! We're only a few minutes in and Tiffany Stratton is PUNISHING Hikari Noa!
Stratton looks to Jinny, who simply scowls in return. Stratton posts up in the corner, waiting on Hikari to get back to her feet. Hikari finally stands and Stratton charges at her, going for a big clothesline! Hikari leaps, catching Tiffany's arms and wrapping her up in a CRUCIFIX PIN! ONE! TWO! THR– NO! STRATTON KICKS OUT! Stratton immediately gets on Hikari, holding her head up while pummeling her with forearms! Stratton stands up and slings the hair out of her face before pulling Hikari back to her feet. She whips Hikari into the turnbuckle so hard that she collapses on impact! Stratton follows her in and picks her back up, lobbing her into the opposite turnbuckle! Stratton follows up with a HANDSPRING AND ROTATES INTO A CORNER CLOTHESLINE! She casually dumps Hikari back into the center of the ring and covers! ONE! TWO! THR– NO! HIKARI BRIDGES OUT!
PAT MCAFEE:
TIFFANY STRATTON IS A FREAK OF NATURE! Gorgeous woman, but the things she can physically do, what she's capable of is OUT OF THIS FREAKIN' WORLD!
MAURO RANALLO:
Her acrobatic ability is second to none, except maybe Scarlett Johansson's BLACK WIDOW… which I must imagine was as unpleasant an experience for yours truly in a theater setting as this beating is for HIKARI NOA!
PAT MCAFEE:
That was a hell of a stretch, but I guess you got there.
Stratton, visibly frustrated, pulls Hikari back to her feet, only to get a forearm right to the jaw! Hikari goes nuts, nailing Stratton with a series of forearms before hitting the ropes and nailing her with a dropkick! Then another dropkick! Then a third dropkick sends Stratton to the mat! Hikari ascends the turnbuckles and screams in Japanese for Stratton to get up! Stratton slowly gets to her feet, disoriented, and Hikari flies… SHOTGUN DROPKICK FROM THE TOP! Hikari quickly falls on top of Stratton, folding her up with a JACKKNIFE PIN! ONE! TWO! THR- NO! JINNY PULLED THE REFEREE OUT OF THE RING!
PAT MCAFEE:
ARE YOU KIDDING ME RIGHT NOW!?
MAURO RANALLO:
I'M AFRAID NOT, MCAFEE, MUCH LIKE LITERALLY ANY MELISSA MCCARTHY MOVIE EVER MADE, THERE ARE NOOOO JOKES TO BE FOUND HERE!
Jinny points in the referee's face, threatening him! But then she looks up in horror as she sees Kagetsu launching herself off the apron! KAGETSU TAKES OUT JINNY WITH A SOMERSAULT SENTON OFF THE APRON! THE FANS POP HUGE!
MAURO RANALLO:
MAMA MIAAAAAAA!
PAT MCAFEE:
KAGETSU THE EQUALIZER HAS WEIGHED IN!
Tiffany Stratton is up to all fours and Hikari Noa pounces, taking her over in the ROLLING DEATH CRADLE before locking her down! The referee slides back into the ring! ONE! TWO! THREE!
WINNER:
HIKARI NOA
Pinfall - 11:24
As soon as the three count is registered, Hikari Noa releases the pin and flies out of the ring, celebrating like she just won a championship! Kagetsu joins Hikari on the ramp, adjusting her white suit and putting her sunglasses back on, slightly disheveled after her unexpected involvement in the match. Hikari leads a "HARD TO KILL" chant with nearby fans before making the "title belt" motion around her waist.
MAURO RANALLO:
Congratulations to Hikari Noa on becoming the final woman to enter the Queen of the Mountain match at Ascension!
PAT MCAFEE:
Deathmatch Princess, WELCOME TO THE DANCE!
As they exit through the curtain, we see the referee helping Jinny to her feet. Jinny shoves the referee away and storms to the back with a disappointed Tiffany Stratton behind her.
MAURO RANALLO:
The match is set, the title is on the line… now place your bets, who walks away with the championship at WLCW ASCENSION!
Fade.We cut backstage where Matt Striker is waiting for his cue.
MATT STRIKER:
Ladies and gentlemen, joining me at this time, the Motor City Machine Guns, Chris Sabin and Alex Shelley!
Camera fades back a bit to see them standing on both sides of Striker.
MATT STRIKER:
Guys, a pretty big ask for your first WLCW match tonight with the title contender battle royale match.
CHRIS
SABIN:
The way I see it, Matt, it's a hell of a way to make a debut. Showing up and winning the biggest match in wrestling history in quite some time.
ALEX
SHELLEY
We know tonight's match is important and all, but we got our sights set on a pretty big prize.
CHRIS
SABIN:
General Manager Foley hasn't said anything about the tag team titles and who will be challenging for them.
ALEX
SHELLEY
There are a number of quality tag teams here in WLCW. We don't plan on being just another face in the crowd though, Matt. We are going to make some noise tonight and if neither of us can walk out world title contenders, we plan on walking out of here at least showing Foley we still have what it takes.
HAPPY CORBIN:
Still have what it takes? You hear that Madcap?
They all turn their attention to the voice that interrupted them to see Corbin and Moss standing off to the side..
MADCAP MOSS:
It's funny, I don't remember them
ever
having what it takes.
ALEX
SHELLEY
Is that right?
CHRIS
SABIN:
Maybe you'd like to find out?
HAPPY CORBIN:
Please! Look at you both. There's like a combined age of a million standing here in front of us. We'd break your hips old men.
CHRIS
SABIN:
Oh something's going to get broken all right.
MADCAP MOSS:
It ain't us! Nothing broke about us! We rich as hell!
ALEX
SHELLEY
You guys can have all the money in the world but you couldn't hold a candle to two of the best technical wrestlers on the planet in that ring.
Corbin pretends to be looking for someone or something off in the distance.
HAPPY CORBIN:
And just where exactly are those great technical wrestlers!? Are they not here yet or are they coming soon? Cause all I see are two old fossils standing in front of me. You're lucky John Hammond doesn't preserve your DNA and put you in a park!
MATT STRIKER:
Is that a…Jurassic Park reference joke?
CHRIS
SABIN:
Ninety nine times out of a hundred, that's a big ring out there. But tonight? It's gonna look awfully small with all those bodies in it. You guys aren't going to have anywhere to run when we come to find you. Keep eyes in the back of your heads tonight.
The Motor City Machine Guns walk out of the interview area as Corbin and Moss watch them with smirks on their faces.We cut to the backstage area where the newly arrived CM Punk is preparing for the battle royale. The crowd cheers as they see him on the screen. He's approached and the camera pans back to see Matt Sydal standing near him, already in his ring gear.
MATT SYDAL:
CM Punk, we never got a chance to rub elbows back when AEW was going, but it's damn good to see you here man.
Punk stands up from lacing his boots with a small grin on his face.
CM PUNK:
Hard to believe we've been doing this for as long as we have been, right?
MATT SYDAL:
Starting to feel it a little more the days after, that's for sure.
CM PUNK:
Oh, I'm sure this match tonight is going to feel real bad tomorrow. But it'll all be worth it when we're the last two standing, no?
MATT SYDAL:
I mean, it's a hell of a thought. Not gonna lie.
"tHe MaD kInG" EDDIE KINGSTON:
You boys done patting each other on the back? You're gonna break your damn hands soon.
The locker room area is full of superstars preparing for the match, including the Mad King himself.
CM PUNK:
Oh, Eddie. Don't think we've forgotten about you.
MATT SYDAL:
Yeah, maybe if we all work together, we can hash this out as the final three?
"tHe MaD kInG" EDDIE KINGSTON:
Why don't you just go ahead and stab me in the back with whatever knife your sharpening right now, boys. Cause whatever you're proposing, I ain't having it. You guys wanna talk about being the last man standing tonight, don't bother prepping a gameplan. Cause you're gonna have to go through me and I'm gonna tell you both right now, that ain't happening.
CM PUNK:
A lot of stuff can happen out there, bud. Maybe it'd be better to have friends than a bunch of enemies.
MATT SYDAL:
Wouldn't hurt to have someone have your back for once, Kingston.
CHEF BRAUN:
Friends are for the weak.
The locker room is starting to fill up with challengers like the ring will here in a bit.
"tHe MaD kInG" EDDIE KINGSTON:
Oh great, it's Gordon Ramsey Ratatouille or whatever his name is.
CHEF BRAUN:
You should know my name. I beat you in that ring last week on Vengeance for this…
He holds the X-Division championship out towards Kingston who sneers at him.
"tHe MaD kInG" EDDIE KINGSTON:
No, you beat that
punk
Bron Breakker. Not me. If it was a one on one match, I'd send your ass back to catering cleaning all the pots and pans where you belong.
CM PUNK:
Don't mind Eddie, big man. It was an impressive win last week.
CHEF BRAUN:
I've got two shoulders. One for each championship I'm going to hold after Ascension. Tonight is just a stepping stone.
MATT SYDAL:
Pretty confident.
CM PUNK:
Being seven feet tall will do that. The bigger they are though - -
"tHe MaD kInG" EDDIE KINGSTON:
Yeah, yeah, yeah. The harder they fall. But they don't fall that often, do they Punk. Cause they're, you know, seven feet tall. All it takes is one little moment though. Get their legs up over their head and they're out of that ring. That's all it's gonna take tonight, big guy. Watch your back.
CHEF BRAUN:
You'd think you'd know better.
"tHe MaD kInG" EDDIE KINGSTON:
I don't know nothing! That's my secret, chef!
CM PUNK:
I think I've had enough talking, isn't this thing next?
MATT SYDAL:
Good luck tonight, Punk.
The scene fades as they all leave the locker room to get ready for the match.